Click Play above to listen now.
Full transcript below.
Hi this is your host, Pete Blum. Welcome to American Heroes Network! Our core mission is Serving the Brave Men and Women who have Sacrificed to Ensure our Freedom. You will hear true stories from those that have served, learn about Veteran organizations and resources, and gain hope for your future knowing American Heroes Network, your community, and other Veterans are here and at the ready to serve and help you and your family. We will talk about the hard topics like PTSD/TBI. You will also hear military history, inspirational stories, learn about networking with the community, and more. So come join us and be part of our family.
Today's guest is a retired Army Combat Veteran after 24 years of service. After his time in the service he earned a master's degree in Clinical Mental Health Counseling to continue helping Veterans and has received numerous mental health counseling awards for his work. He is the Founder & CEO of Veterans Counseling Veterans. I would like to welcome Ellsworth "Tony" Williams.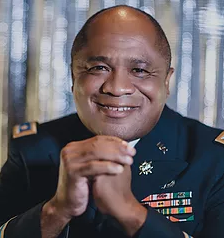 You can follow Tony here
Website: https://www.vetscounselingvets.org/
LinikedIn: https://www.linkedin.com/in/ellsworth-tony-williams-4961b414/
Facebook: https://www.facebook.com/groups/vetscounselingvets/
Twitter: @vetcounselvet
Tony thank you for serving and how are you doing today?
I wanted to start out by saying that this topic is often one of the things that people don't like to talk about. Suicide is a huge issue but without communication, there is not awareness. I feel like we are blessed with the life we are given and we need to remember that life is our most precious gift. So today I am looking forward to you helping to shine some light on the issue so we can gain knowledge and awareness on what is being done and what else could be done.
Topics
So I saw that you started out as enlisted and then became an officer. What was that like?
So tell me a little bit about what you did in the military.
Transition from the military (easy or hard)
You interned with VA?
What was it that caused you to start Veterans Counseling Veterans?
Now I know you say Veteran suicide is a National problem with a local solution but when it comes right down to it are the numbers even right? They say 22 a day commit suicide but is it really higher or lower? I keep hearing that number is not right.
VA VHA just released it's 2019 National Veteran Suicide Prevention Annual Report. It should have been titled "Revised National Veteran Suicide Annual report (2005-2017).
At first glance it looks like Veteran suicide was reduced from 20 per day to 16.8 per day. Actually the VA adjusted the numbers to exclude active duty and National Guard or Reservists who were activated.
This change must be reflected by DoD or the Reservists and National Guards numbers will simply disappear.
Tell us about your company's mission
Goal 1: Identified as a brand name for the state
Goal 2: Expand Network to 1-2 States
Goal 3: Expand to 6 Counties in Florida
So some of the things you have been doing to make a difference involve getting out there and talking to the community, let's talk about some of that…
18 May 2019 you held a suicide prevention/postvention forum
Here are a few of the panelists at our Faith-Based Organizations, Mental Health and Veteran organizations Forum on Suicide prevention. Our moderators were Roderick Cunningham Carlos Garcia and Linda J. Pugsley Representatives from James A Haley VA, St Pete and Clearwater Vets Center, Bay Pines VA attended. Brian Anderson and Amy Anderson from Veterans Alternative, Damon Friedman and Lindsay Johnson from SOF Missions, Montana Judd from 22 Until None, James Salgado from Veterans Treatment Court, Jason Thompkins from American Foundations for Suicide Prevention, American Legion Barry Roberts; American Legion Larry Roberts, American Legion Randall McNabb, reps from Marine League, Canines For Christ, Southeastern Guide Dogs, Ed Perry from 211 Tampa Bay Cares and more….to follow. It was great seeing the community come together to help build a coalition to prevent veteran suicides Luis Viera, Tamara Mackroy Stacey Ward Howard Word Howard Altman Journalist Amy Enkling Duane Williams Amy M. Stevens Linda J. Pugsley Debra Pugh Harris Norman Bissel Jay Allen Stanley G Gray Ann Maglio Sam-Anne Lima Anna Tanzilla Trish Leto
Suncoast Veterans and Families Suicide Prevention Coalition
In June you attended FLDVA's Forward March program to speak on mental health and suicide awareness
VCV Campaign for suicide prevention and postvention 16 Sep -22 Sep
Prayer, meditating, and a moment of silence
Let's talk about some of the issues with the current process
Postvention– after a veteran dies from suicide the VA only does vets, not families
Who does the spouse talk to? Who takes care of the families?
Local efforts, FLDVA
National Efforts, DVA
Successes and impact
Next steps
You talked about needing a task force, tell me about that.
1. Create a Veteran Suicide Coalition for Tampa Bay Area, started
2. Provide representation and services for 4 of the identified Forward March Initiative Districts
3. Create a Podcast capability
4. Advocate/Educate/Awareness for Veteran Suicide Postvention (Families and friends who lost a veteran to suicide)
5. Develop Suicide Prevention training for children of Veterans
What is the key to the success of Veterans Counseling Veterans?
Where can people find you if they want to reach out?
Summary
In this episode with Tony, we learned about:
Florida for Warriors- https://florida4warriors.com/
The Mission Continues- https://missioncontinues.org/
22 Until None- https://www.22untilnone.org/
Mission 22- https://www.mission22.com/
SOF Missions- https://sofmissions.com/
Veterans Alternative- http://veteransalternative.org/
Veterans Treatment Court Tampa http://www.fljud13.org/CourtPrograms/DrugCourtPrograms/VeteransTreatmentCourt/AboutUs.aspx
TAPS- https://www.taps.org/
VA Be There Program- https://www.veteranscrisisline.net/BeThereVeterans.aspx
FDVA Forward March Program- http://floridavets.org/forward-march-regional-veterans-assessments-conclude/
AMVETS- https://amvets.org/
IAVA- https://iava.org/
Independence Fund- https://www.independencefund.org/
Suncoast Veterans and Families Suicide Prevention Coalition-
https://vetscounselingvets.org/wp/event/suicide-prevention-postvention-community-forum-with-faith-based-organizations-mental-health-providers-the-veteran-community/
Cohen Veterans Network- https://www.cohenveteransnetwork.org/
Mission United – https://www.unitedway.org/mission-united
WWP- https://www.woundedwarriorproject.org/
I hope you have enjoyed this episode! Be sure to keep coming back for more great episodes. If you want to talk to us about something you learned today, if you have questions, or you would like to be a guest on our podcast go to americanheroesnetwork.com and click on contact us.
Thank you for listening!