Click Play above to listen now.
Full transcript below.
Hi this is your host, Pete Blum. Welcome to American Heroes Network! Our core mission is Serving the Brave Men and Women who have Sacrificed to Ensure our Freedom. You will hear true stories from those that have served, learn about Veteran organizations and resources, and gain hope for your future knowing American Heroes Network, your community, and other Veterans are here and at the ready to serve and help you and your family. We will talk about the hard topics like PTSD/TBI. You will also hear military history, inspirational stories, learn about networking with the community, and more. So come join us and be part of our family.
Today's guest is a military spouse that has worked all over the world and knows four languages. Even before her current role she was actively involved in helping others as the chapter co-founder and co-lead for the Military Spouse Professional Network at Travis AFB. She is the Program Manager for the Hiring our Heroes Corporate Fellowship Program and the Military Spouse Fellowship Program in Tampa and Orlando. I would like to welcome Aleksandra Johnston.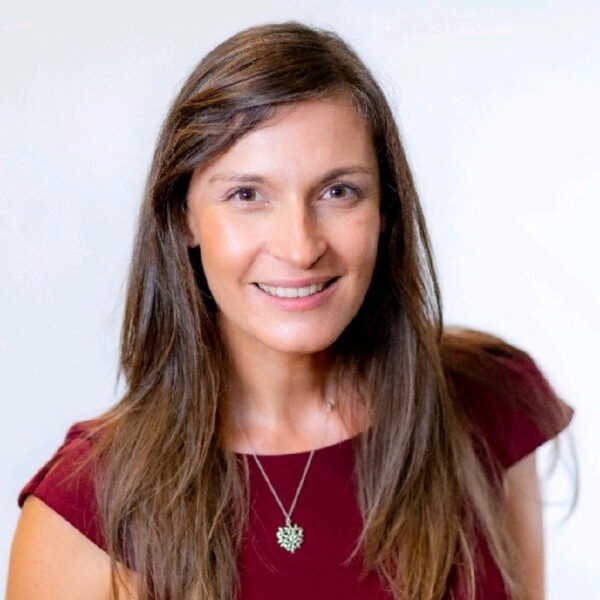 You can follow Aleksandra here
Website: https://www.hiringourheroes.org
LinikedIn: https://www.linkedin.com/in/aleksandrajohnston
Aleksandra, good morning and how are you doing today?
I met Aleksandra when she was the guest speaker at the Project Transition USA LinkedIn workshop on MacDill AFB in Tampa Florida. She provided such great information to the transitioning Veterans there that I wanted to share it with all of you!
Topics
What is military life for you a military spouse?
My husband is still active duty, currently at MacDill AFB. In fact we just PCS'ed to Tampa last summer and after a 4 month TDY, we just moved into our new house in October after a long transition period and living out of suitcases.
For him, this is his 11th move with the military; as a family we have moved four times in the last 6 years.
Tell us… your story and why you want to help Veterans/Military Families.
I got heavily involved with volunteering for Hiring Our Heroes while at Travis AFB in California where my husband was stationed before we came to Tampa. I noticed that military spouse unemployment and underemployment has a big impact on the military community as a whole; limited opportunities for meaningful employment affect military families in so many ways, especially in California where the cost of living is high and a second income makes a great difference. Together with a few other military spouses we created a chapter of the Military Spouse Professional Network, which is a networking and professional development group that meets monthly with at least one employer present to discuss local employment opportunities. MSPN is an amazing HOH Program that has a huge impact on the military community; there are over 55 MSPN networks around military bases across the world. The group's purpose is to connect incoming spouses or any spouse looking to resume her or his career in a new location; to connect military spouses who are uprooted from their previous professional networks with the business leaders in at the new duty station. MSPN Travis grew from 0 to 400 members in under 12 months and brought together the incredibly diverse talent that military spouses bring to the table. At every meeting the room would be full of spouses from all sorts of backgrounds: nurses, teachers, stay at home moms, entrepreneurs, scientists, IT gurus, students, therapists, veteran spouses looking to start a new career after a long gap, and newly married spouses fresh out of college looking to understand the military lifestyle and how to create a career alongside the demanding nature of the active-duty lifestyle.
Tell us about Hiring Our Heroes mission.
The mission of HOH is to empower the military community to thrive in the civilian workplace and help businesses develop a strong and diversified workforce.
Hiring Our Heroes is grounded on the principles of grassroots engagement and public-private partnerships to create lasting impact for military families and the business community
HOH utilizes the vast network of the U.S. Chamber of Commerce to connect military families to military ready employers and executes a variety of events and programs to connect military connected job seekers directly to employers. More than 40 of the nation's largest companies have joined our Veterans Employment Advisory Council (VEAC) and Military Spouse Employment Advisory Council (MSEAC).
Corporate Fellowship Program,
The Hiring Our Heroes Corporate Fellowship Program is an innovative 12-week program that provides transitioning service members with professional training and hands-on experience in the civilian workforce.
The professional development offered through the program prepares candidates for a smooth transition into meaningful civilian careers.
Participating corporations benefit by gaining access to the best and brightest transitioning service members, while also developing a more comprehensive understanding of the veteran job market.
2018 CFP STATS:
726 Fellows placed
Job offer rate: 92%
2018 Average Salary: $88,400
200+ host companies
Spouses program
The Hiring Our Heroes Military Spouse Program is a leader in the military spouse employment space, partnering with public and private sector organizations to develop and communicate best practices, dedicated resources, and research related to military spouse employment.
The program also hosts 20+ standalone networking and hiring events for military spouses around the world, as well as AMPLIFY, a two-day career intensive for military spouse professionals at every career level.
The HOH Military Spouse Professional Network serves career-minded military spouses around the world at more than 50+ military installations with 20,000+ members, providing them with more than 180 location-based networking and career development events each year.
Like most American families, military families want and need two incomes—something that is much harder for military families to achieve. 71% of employed military spouses agree that having two incomes is vitally important to their family. (Source: Military Spouses in the Workplace, Hiring Our Heroes, June 2017)
The lack of employment opportunities creates stress and influences a family's decision to stay in or leave the military. 43% of military spouses ranked equal employment opportunity as a factor in the decision-making process to stay or leave the service. (Source: Military Spouses in the Workplace, Hiring Our Heroes, June 2017)
Frequent moves faced by military spouses lead to a lack of a network which is the number one means of finding employment. 85% of jobs are filled by networking. (Source: Study Reveals 85% of Jobs Filled By Networking, LinkedIn, 2017) 67% of military spouses who have been relocated have quit at least one job as a result of a military move of which 65% needed four or more months to find a new employer and 25% taking more than a year to secure employment. (Source: Military Spouses in the Workplace, Hiring Our Heroes, June 2017)
Experiential learning and earn and learn opportunities are putting military spouses back in the workforce. Through a Department of Labor workforce development grant awarded to Anne Arundel County, Maryland, HOH has put over 150 military spouses through six week paid fellowships with companies and organizations of all sizes with over 80% of the fellows receiving job offers.
Caretaker program: the 6 week fellowship program is also offered to caretakers who have been taking care of a wounded soldier or a military child with special needs; the caretaker does not have to be a spouse, but could be the mother, brother, sister or cousin of a wounded soldier. If the season is right for them to reenter the workforce, they can apply to the program and identify that they consider themselves a caretaker.
All other national programs that you can speak on
MILITARY SPOUSE ECONOMIC EMPOWERMENT ZONES
The objective of the Hiring Our Heroes Military Spouse Economic Empowerment Zones is to bring together local community leadership with industry leaders to develop workforce solutions for military spouses.
MSEEZ communities address local military spouse unemployment and underemployment issues through the efforts of local working groups. These groups work to establish a range of local employment-related tools and resources to help tackle military spouse employment issues head-on.
HIRING 100,000 MILITARY SPOUSES CAMPAIGN
The U.S. Chamber of Commerce Foundation's Hiring Our Heroes, in collaboration with Starbucks, announced the launch of Hiring 100,000 Military Spouses on June 28, 2018
The program is a three-year, national call-to-action for companies and businesses to make a collective commitment to hire 100,000 military spouses.
The goal of the campaign is to address the issue of military spouse unemployment and underemployment and provide real solutions for military spouses seeking meaningful 21st-century career opportunities.
How does Hiring Our Heroes connect with transitioning military, veterans, and their families?
We connect with the community through a number of events, summits, programs, and through our website which is where the applications for the fellowship program are filled out. HOH host Transition Summit events around military installations across the country. We also host Amplify events specifically geared towards the military spouse population. There are also 16 program managers for the Corporate Fellowship Program who are actively involved with the military community and their families.
How can they connect with Hiring Our Heroes?
Best way to connect is through hiringourheroes.org
What action items would you give transitioning service members in order to be successful?
Take advantage of multiple resume review/help services
Create a strong LinkedIn profile and presence with a professional headshot in civilian wear – participate in workshops like Project Transition USA!
Look for opportunities to do mock interviews, take advantage of some of the free services out there for military members to practice interviewing skills
Think about your second career with more than salary in mind
I hope you have enjoyed this episode! Be sure to keep coming back for more great episodes. If you want to talk to us about something you learned today, if you have questions, or you would like to be a guest on our podcast go to americanheroesnetwork.com and click on contact us.
Thank you for listening!