Click Play above to listen now.
Full transcript below.
Hi this is your host, Pete Blum. Welcome to American Heroes Network! Our core mission is Serving the Brave Men and Women who have Sacrificed to Ensure our Freedom. You will hear true stories from those that have served, learn about Veteran organizations and resources, and gain hope for your future knowing American Heroes Network, your community, and other Veterans are here and at the ready to serve and help you and your family. We will talk about the hard topics like PTSD/TBI. You will also hear military history, inspirational stories, learn about networking with the community, and more. So come join us and be part of our family.
Today is the date we take American Heroes Network from a radio show to a podcast. Call it embracing technology. The fact is that podcasts are taking over and leaving radio in the dust. American Heroes Network has been an established radio show for nearly 7 years ago and we have reached and helped many Veteran.
Now we are taking the opportunity to reach all Veterans and their families no matter where they are.
Today's guest is the founder of American Heroes Network, an Army Veteran, former National Historian for Military Order of the Purple Heart, and an overall amazing man. I would like to welcome Jim Klug.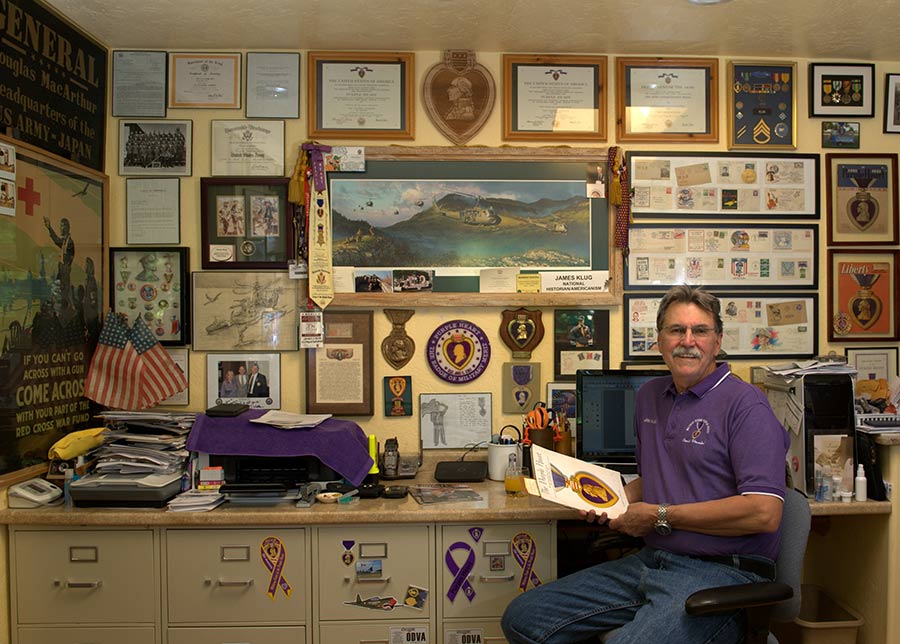 You can follow Jim here
Website: https://americanheroesnetwork.com/
LinikedIn: https://www.linkedin.com/in/james-j-klug-90b66480/
Jim, Welcome and tell us the significance of today's date and why you wanted to launch today.
Topics
237 years ago on August 31st 1782 was the first printing of the Providence Gazette and Country Journal where it was first reported to the public that on August 7th 1782 General George Washington created the Badge of Military Merit, which in 1932 became the Purple Heart. The Purple Heart is still recognized today and issued to military personnel injured or killed in the line of duty.
We will talk about the tough issues like PTSD and Veteran suicide and what is being done to prevent it.
I will talk about and share all of the resources and programs I know about that can benefit Veterans and their families. These will also be listed on the website.
Jim, what was life like in the military for you?
Jim was drafted in 1967 and trained as an Infantryman and in light mortars.
Jim talks about his time in the Army and fighting in Vietnam.
He was in the battle of Hill 875 near the Ho Chi Minh trail near the border where he was wounded.
He also fought in the Tet Offensive in 1968.
We hear about what life was like when Jim served under a Chaplain who liked to be near the troops on the front lines.
Jim talks about the mission and purpose of American Heroes Network, helping Veterans and their families, and the importance of a proper reintegration into society for Veterans. He talks about the American Heroes Network team, comprised of almost all Veterans, and their dedication to our mission. At the very core, it boils down to the survival of every Veteran. Ensuring they are part of the community, they are not alone, and suicide is never an option they need to consider.
Pete talks about serving in the Navy and the Marine Corps and joining at the age of 17.
Being a Navy Parachute Rigger and stationed in the Philippines with the air wing at VRC-50.
He talks about going to boot camp again for the Marines at Parris Island, SC where he got to sing Popeye the sailor man. From there to logistics training in Coronado, CA and then stationed at Camp Pendleton with HMLA-367 (Scarface).
While at HMLA-367 he got to be on Americas Funniest People with other Marines singing to the song "I Get Around" by the Beach Boys. See link below for video.
After CA he went to Quantico, VA and was stationed at HMX-1 (Presidents Helicopter Squadron)
Now he lives in Tampa, FL and helps several Veteran organizations.
Summary
You can find out more about Jim by visiting americanheroesnetwork.com and clicking "About Us" and then "Advisory Board" on the menu bar.
In this episode, we learned about the Badge of Military Merit.
Link to article on the Badge of Military Merit:
https://americanheroesnetwork.com/news/f/national-purple-heart-day
Mentioned
Project Transition USA– http://projecttransitionusa.com/
Racing4Vets– http://www.racing4vets.org/
FourBlock– http://fourblock.org/
Action Zone– https://www.actionzonetampa.com/
Veterati– https://www.veterati.com/
I hope you have enjoyed this episode! Be sure to keep coming back for more great episodes. If you want to talk to us about something you learned today, if you have questions, or you would like to be a guest on our podcast go to americanheroesnetwork.com and click on contact us.
Thank you for listening!
Pete Blum – Host of American Heroes Network