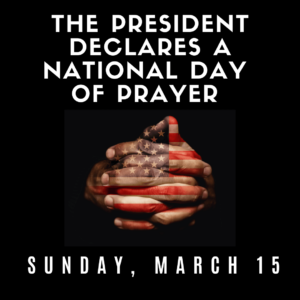 President Trump has declared Sunday, March 15th a National Day of Prayer. He said,
"It is my great honor to declare Sunday, March 15th as a National Day of Prayer. We are a Country that, throughout our history, has looked to God for protection and strength in times like these…. No matter where you may be, I encourage you to turn towards prayer in an act of faith. Together, we will easily PREVAIL!"
At American Heroes Network we believe in God and we believe in the power of prayer.
For times of concern in your life or in our country here is a prayer you can pray.
Lord, today I thank you for being my Savior, my God. Thank you for watching over me and all the blessings in my life. In difficult times I ask your protection for my family, for our country, and for all those who serve to protect it.
Please protect me from harm wherever I go. I put my trust in you in all situations.
Lord protect us in uncertain times. Teach us to be wise and not foolish or careless. I know you love everyone, so strengthen me, by trusting that you are in control.
I ask you to help me, my family, my community, our military, and our country have faith that is stronger than any fear or anxiety, I know you are God Almighty. Help me to be more like you Lord.
My trust is in you my Lord, I faithfully believe that you are watching over us and protecting us.
In Jesus' name, Amen.