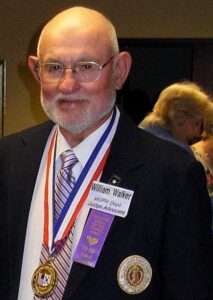 Major Unites States Army Retired
 Patriot Walker is a retired U.S. Army Major who served in both Korea and Vietnam. He was one of the few survivors of the "Lost Battalion." He was assigned to Company I, 3rd Battalion, 29th Infantry Regiment. The 750 man battalion was sent into Korea in July 1950 in an effort to keep South Korean and American troops from being driven into the sea. The battalion was sent against the North Korean 6th Division who had pushed our troops within 35 miles of Pusan, Korea. Then On July 26, 1950, with a 60 to 1 ratio, Walker's battalion was completely destroyed in a 15 minute ambush near Hadong. Most of the battalion was killed; approximately 100 were captured. The captured were led into a railroad tunnel and faced machine gun fire; all were killed except one who played dead. Most of the wounded were killed on the spot.
About 60 were able to make it back to friendly territory under constant fire all the way. Patriot Walker was one of those "lucky" ones. General MacArthur was asked why he did not mention this major loss of men in his memoirs. His response, this loss was insignificant in the grand scale of war.  Patriot Walker received the Purple Heart for wounds received during this action. After being sent to Japan for medical treatment he returned to Korea in September. On October 14, he was wounded again and shipped back to the US for treatment Bill was awarded a second Purple Heart. 
Bill also served in Vietnam as an aviation unit commander and fixed wing and helicopter pilot.  After flying many missions, his most remembered one was landing a helicopter full of doctors and nurses skidding down a gravel field at 120 mph due to having the tail rotor shot off, Lucky again. Additionally, Major Walker was the pilot for General Westmorland for over a year in Vietnam.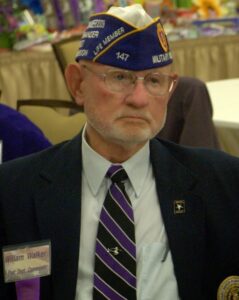 Patriot William (Bill) Walker was a life member of the Military Order of the Purple Heart and lived in Medford, Oregon. It was Patriot Walker that told me about the Military Order of the Purple Heart and encouraged my efforts and membership. He was the Past Chapter 147 Commander as well as the Past Oregon Department Commander. Bill's wife, Debra, made a surprising discovery during an ancestral search of the family name. They were surprised to discover they had a Medal of Honor holder in his family's past. The Medal of Honor holder, Dr. Mary Edwards Walker. Commander Bill is survived by his wife Deborah, daughter Kelly and son Terry. Terry served as an Honor Guard at the Tomb of the Unknown Soldier at Arlington National Cemetery.
Bill and I were the very best of friends. We would meet on a regular basis to have breakfast together, to talk and to discuss new ways to support the Veterans of our great Nation. Those that had the true honor of meeting Commander Bill, were blessed by his love, dedication, and desire to do good for all he meet. I called him, Commander Bill; it was a true honor for me. When Commander Bill passed, his loving wife Debra called to let me know. Debra then told me that Commander Bill and she wanted me to officiate at his memorial service. It was a tremendous honor to officiate for Commander Bill, Debra and Kelley. I am sure of one thing; Commander Bill is now in the Mansions of the Lord. If God should grant, Until We Meet Again.
Click here for more information on Medal of Honor holder, Dr. Mary Edwards Walker.