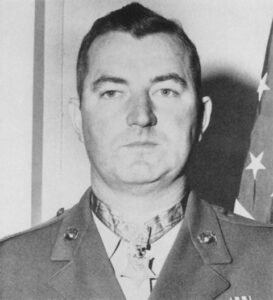 Marine Captain, a WWII Medal Of Honor recipient 
Joseph McCarthy served in WWII. He fought in battles of Roi-Namur, Saipan were he earned the Silver Star for valor and the Purple Heart, Tinian and then Iwo Jima were he earned the Congressional Medal of Honor for his heroism and a second Purple Heart. His men called him, "The best damn Officer in the Marines". Additionally, McCarthy served in Korea.
Joseph J. McCarthy was well know in the Military Order of the Purple Heart. On page 3 of the September-October issue of the PURPLE HEART MAGAZINE his story was featured along with a picture as President Harry S. Truman. President Truman presented the Medal of Honor to McCarthy in ceremonies at the White House, held on October 5, 1945. As Truman presented the Medal, he told McCarthy, "I'd rather have one of these than be President. Joseph McCarthy retired from the Marine Corps Reserve in 1971 and from the Chicago Fire Department in 1973. Thereafter, he and his wife split their time between homes in Wisconsin and Delray Beach, Florida. His wife, Anita, died in 1978. The couple had no children.
"I would hope and pray there never be another Medal of Honor issued," he said in a 1992 interview. "I hope and pray there's never any more wars"
McCarthy was 82 years old when this feature was run in the PURPLE HEART MAGAZINE.