George Charles Lang
Specialist Fourth Class
April 20, 1947 – March 16, 2005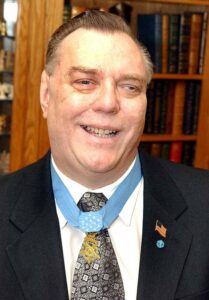 I first learned about George Charles Lang when I did I an interview with Dan Nevins of the Wounded Warrior Project. There are certain warriors and heroes that stand out to individuals, families, and organizations. George Lang is one of those people. The Wounded Warrior Project recognized his courage and his sacrifice. He was a great man and a friend of Wounded Warrior Project. They named their highest award after him, the George C. Lang Award for Courage.
Learn more about that here:
 https://www.woundedwarriorproject.org/courage-awards/awards/george-lang 
George Charles Lang's Medal of Honor Citation reads:
The President of the United States of America, in the name of Congress, takes pleasure in presenting the Medal of Honor to Specialist Fourth Class George Charles Lang, United States Army, for conspicuous gallantry and intrepidity at the risk of his life above and beyond the call of duty while serving with Company A, 4th Battalion, 47th Infantry Regiment, 9th Infantry Division, in action against enemy aggressor forces at Ben Tre City, Kien Hoa Province, Republic of Vietnam, on 22 February 1969. Specialist Fourth Class Lang, Company A, was serving as a squad leader when his unit, on a reconnaissance-in-force mission, encountered intense fire from a well fortified enemy bunker complex. Specialist Fourth Class Lang observed an emplacement from which heavy fire was coming. Unhesitatingly, he assaulted the position and destroyed it with hand grenades and rifle fire. Observing another emplacement approximately 15 meters to his front, Specialist Fourth Class Lang jumped across a canal, moved through heavy enemy fire to within a few feet of the position, and eliminated it, again using hand grenades and rifle fire. Nearby, he discovered a large cache of enemy ammunition. As he maneuvered his squad forward to secure the cache, they came under fire from yet a third bunker. Specialist Fourth Class Lang immediately reacted, assaulted this position, and destroyed it with the remainder of his grenades. After returning to the area of the arms cache, his squad again came under heavy enemy rocket and automatic weapons fire from three sides and suffered six casualties. Specialist Fourth Class Lang was one of those seriously wounded. Although immobilized and in great pain, he continued to direct his men until his evacuation was ordered over his protests. The sustained extraordinary courage and selflessness exhibited by this soldier over an extended period of time were an inspiration to his comrades and are in keeping with the highest traditions of the United States Army.
Other Info
A YouTube video of George Charles Lang: