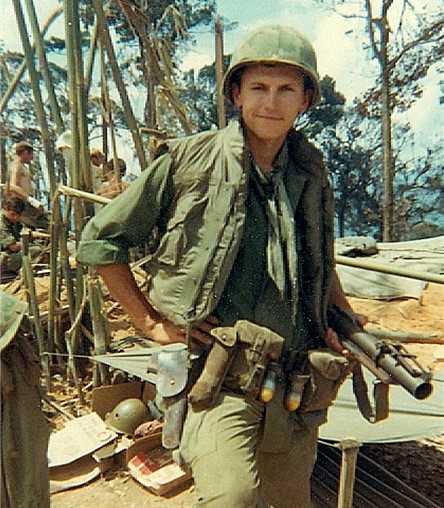 James Klug President & CEO of American Heroes Network remembers the Vietnamese TET Offensive from January 30, 1968 through February 30, 1968.
52 years ago, the North Vietnamese Army and the Viet Cong launched a month-long offensive against the United States Military, the South Vietnamese Army and its Allies. The United States agreed to a cease-fire for the Vietnamese Lunar New Year. However, we remained on high alert during the stand-down until they broke it. The enemy had been hard at work for over a year stocking the needed supplies to launch their offensive against us. According to Wikipedia, An estimated 80,000 thousand PAVN/VC troops struck more than 100 towns and cities, including 36 of 44 provincial capitals, five of the six autonomous cities, 72 of 245 district towns, and the southern capital. The offensive was the largest military operation conducted by either side up to that point in the war.
I was assigned to the 1st. Battalion 12th. Infantry 4th. Infantry Division Delta Company. A brief accounting of the first days of TET follows:
28 January (Sunday): Delta Company makes contact with an unknown-sized NVA force. Fighting continues until dusk, when the NVA breaks contact. Delta Company suffers three WIA's, enemy losses are unknown (Dilkes:194).
29 January (Monday): At first light Delta Company sweeps the battlefield and finds that the NVA had abandoned about 50 bunkers due to artillery (Dilkes: 194).
2 February (Friday): Delta Company conducts a combat assault into a hot landing zone in Kontum to help deal with an NVA assault on the city (Dilkes:195).
8 February (Thursday): Alpha Company sends out a rescue party to the downed dustoff and recovers one KIA and three WIAs. The remainder of the company stays at their patrol base at AR813942 where they engage and kill one NVA. A subsequent perimeter sweep locates seven more NVA bodies. The battalion fire support base at YB911121 receives an extensive B-40 rocket and 82mm mortar attack.
Friendly losses include KIAs Private First Class John Barbury and Private First Class James Neal of Alpha Company, and Specialist Fourth Class Bill Harrington of Delta Company. Two of the seven WIAs include Specialists Fourth Class Leonard B. Chambers and Thomas W. Halm, both of Alpha Company (Dilkes:198).
Read more about Bill Harrington: