Click Play above to listen now.
Full transcript below.
Hi this is your host, Pete Blum. Welcome to American Heroes Network! Our core mission is Serving the Brave Men and Women who have Sacrificed to Ensure our Freedom. You will hear true stories from those that have served, learn about Veteran organizations and resources, and gain hope for your future knowing American Heroes Network, your community, and other Veterans are here and at the ready to serve and help you and your family. We will talk about the hard topics like PTSD/TBI. You will also hear military history, inspirational stories, learn about networking with the community, and more. So come join us and be part of our family.
Today we are doing a special podcast episode for Veterans Day. I would like to start with a special message from our CEO, Jim Klug.
It is an honor to speak to you today on Veterans Day 2019.
Our great Nations foundation is built upon the sacrifice and service of The Veterans of the
Revolutionary war. Their example and sacrifice has spanned 243 years where the Veterans of today are in service to this Nation and the world to ensure freedom and safety to all those that are willing to fight for it.
American Heroes Network thanks our Veterans for their service and sacrifice. We are called veterans, but these words are but too little to encompass the vast history and expanse of sacrifice made by those who heeded the call of this nation and rose to the occasion in heroic forms that most will never understand. This makes our appreciation and honor all that much more deep, soulful, and true as we realize that nothing we say, no ceremony we perform can adequately honor the sacrifices made by veterans and families -living or dead. The honor we show them is to keep close the American Dream and faithfully live every day to ensure the eternal perpetuation of the American way of life they sacrificed so much for us to prevail.
To the Veterans that have served this Nation in the Army, Navy, Marine Corps, Air Force, and Coast Guard, today and every day, at American Heroes Network we respect, support and honor you. Your sacrifice is honored and respected, for we too know the cost of service to our Nation.
In 1834 Thomas Jefferson, the great apostle of human rights, has told us, that "the price of Liberty is eternal vigilance."
"Veterans know better than anyone else the price of freedom, for they've suffered the scars of war. We can offer them no better tribute than to protect what they have won for us."
-President Ronald Reagan
Today is a time to share the core mission of American Heroes Network, that is, the importance of Veterans and their sacrifice and service to our great Nation. Thanks, James Klug
Jim it is certainly awesome to be here with you today doing a special Veterans Day podcast to honor our Veterans for all they have done and sacrificed.
To me honoring Veterans involves two things. The first is ensuring the history of the wars and battles and the stories of individuals who went through them are not lost or forgotten. That's why I think the mission of American Heroes Network is so important, we tell those stories.
The second is we need to be here for Veterans now, all of America needs to be here for them now! Veterans are out there with great needs every day.
There are those currently transitioning out of the military needing assistance with finding a job, networking, or starting a business.
There are those dealing with physical or mental issues that need our help or at the most basic level for someone to just listen and understand what they are going through.
Sometimes, when they don't get help Veterans end up homeless and on the streets, we need to help them find housing, training, and a job so they can get back on their feet.
There are organizations out there that can help with almost every one of these things, our goal at American Heroes Network is to be the bridge to help you find them through interviews with people and programs who understand and can help and also by resources listed on our website.
The thing about Veterans that we all need to remember is they are the 1% that have sacrificed and served our nation. We need to see every day what we can do to honor them and help them.
I do my best every day to help Veterans by doing things like:
Assisting nonprofits with their mission to help Veterans and their families.
Providing transitioning military, Veterans and spouses LinkedIn training and coaching with Project Transition USA
Mentoring with Veterati
Speaking to groups of Veterans whenever there is an opportunity
I get on LinkedIn every day and help Veterans and their spouses by reviewing profiles and resumes, answering questions, making introductions, and more.
The question for all of you is what can you do today to help a Veteran or their family. Ask yourself that question every day.
We have another surprise, a special guest today, Steve Deaton.
Steve was born on Veterans day on a Marine base, Camp Pendleton, CA
Happy Birthday Steve! Steve reads a beautiful poem, "In Flanders Fields"
Listen to Jim's earlier episode to learn more about him:
https://americanheroesnetwork.podbean.com/e/ahn-1-about-our-mission/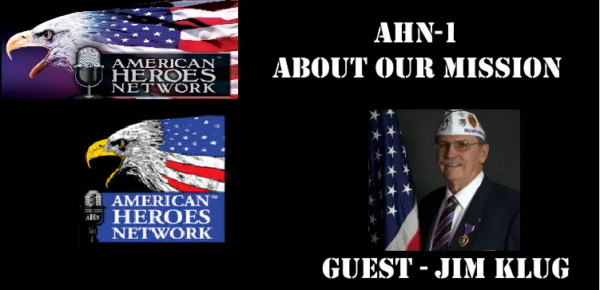 Listen to Steve's earlier episode to learn more about him:
https://americanheroesnetwork.podbean.com/e/ahn-2-with-steve-deaton/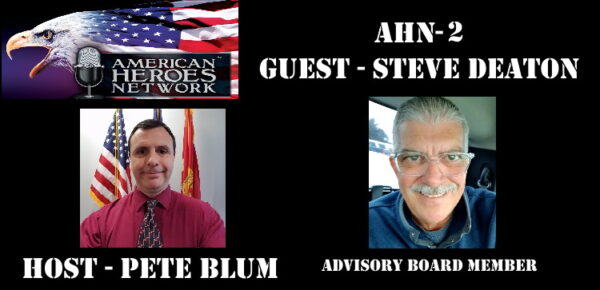 I hope you have enjoyed this episode! Be sure to keep coming back for more great episodes. If you want to talk to us about something you learned today, if you have questions, or you would like to be a guest on our podcast go to americanheroesnetwork.com and click on contact us.
Thank you for listening!