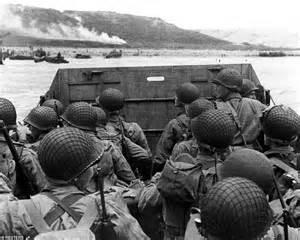 General Dwight D. Eisenhower, prepared his troops for the biggest armada and landing of over 130,000 troops on the five beaches across 50-miles of Normandy coastline in history. The combined efforts of the Allies led by the United States led to the complete victory and defeat of the Nazi's of Germany some 77 day after the this invasion. This victory gave freedom for million that had suffered under Nazi occupation. Today we honor those that fought and those that gave their all in defense of freedom. AMERICAN HEROES NETWORK
---
On 76th anniversary, few to mourn the D-Day dead in Normandy
By Associated Press Jun 5, 2020, 9:11am MDT
SAINT-LAURENT-SUR-MER, France — At least the dead will always be there.
All too many have been, for 76 years since that fateful June 6 on France's Normandy beaches, when allied troops in 1944 turned the course of World War II and went on to defeat fascism in Europe in one of the most remarkable feats in military history.
Forgotten they will never be. Revered, yes. But Saturday's anniversary will be one of the loneliest remembrances ever, as the coronavirus pandemic is keeping almost everyone away — from government leaders to frail veterans who might not get another chance for a final farewell to their unlucky comrades.
Rain and wind are also forecast, after weeks of warm, sunny weather.
"I miss the others," said Charles Shay, who as a U.S. Army medic was in the first wave of soldiers to wade ashore at Omaha Beach under relentless fire on D-Day.
Shay, 95, lives in France close to the beach where he and so many others landed in 1944. He knows of no U.S. veterans making the trip overseas to observe D-Day this year.
"I guess I will be alone here this year," Shay said before he performed a Native American ritual to honor his comrades by spreading the smoke of burning white sage into the winds lashing the Normandy coast Friday.
The eerie atmosphere touches the French as well as Americans.
"The sadness is almost too much, because there is no one," said local guide Adeline James. "Plus you have their stories. The history is sad and it's even more overwhelming now between the weather, the (virus) situation and, and, and."
The locals in this northwestern part of France have come out year after year to show their gratitude for the soldiers from the United States, Britain, Canada and other countries who liberated them from Adolf Hitler's Nazi forces.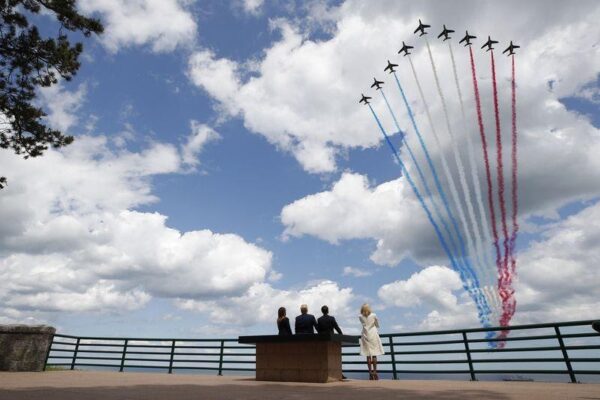 In this June 6, 2019 file photo, President Donald Trump, first lady Melania Trump, French President Emmanuel Macron and Brigitte Macron, watch a flyover during a ceremony to commemorate the 75th anniversary of D-Day at the American Normandy cemetery, in Colleville-sur-Mer, Normandy, France. In sharp contrast to the 75th anniversary of D-Day, this year's 76th will be one of the loneliest remembrances ever, as the coronavirus pandemic is keeping nearly everyone from traveling. Alex Brandon, Associated Press file photo