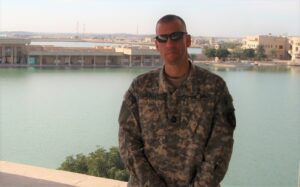 Craig Lauinger spent 30 years on active duty serving as the senior recording, mastering and broadcast audio engineer for The United States Army Band "Pershing's Own", and retired at the rank of Sergeant Major in 2020. Originally from Newberg, Oregon, he was a nationally ranked competitive swimmer and water polo player from the mid-70's through the mid-80's, setting numerous Oregon State records in multiple events. Along with his other studies he focused on music, electronics, and physics during his time at Newberg High School, graduating in 1986.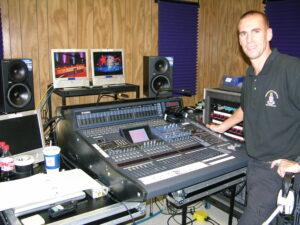 While studying audio engineering, music, and physics in college, he also competed as an NCAA Division I swimmer at both Indiana University and The American University, where he earned a Bachelor of Science degree in Audio Engineering. Immediately after graduation in 1990, he won an audition at "Pershing's Own" where he built his career working alongside a unique collection of highly talented military musicians. In addition to producing more than 50 Army Band and concert DVD's, SGM Lauinger had the honor of working closely with numerous recording artists which included Louie Bellson, Vince Gill, Chris Isaak, Wynona Judd, Patti LaBelle, Kenny Loggins, Louise Mandrell, Kathy Mattea, Reba McIntyre, Craig Morgan, New York Voices, Gladys Knight, James Otto, Tito Puente, Lou Rawles, Arturo Sandoval, Gary Sinise, Billy Taylor, Keni Thomas, Mel Torme, Bill Watrous, James Williams, Mark Wills, Leann Womack and Darryl Worley. He has worked in top performing venues such as the John F. Kennedy Performing Arts Center, Lincoln Center, the Grand Ole Opry, Radio City Music Hall, Birdland, and Myerson Hall. His career highlights were while he was serving overseas as the Lead Audio Engineer for the Sergeant Major of the Army/USO "Hope and Freedom" tours in 2008 and 2010.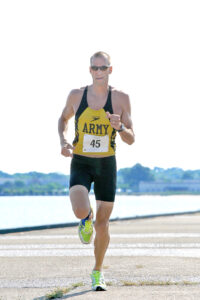 Throughout his Army career, SGM Lauinger competed as a triathlete and road cyclist racing in local, regional, national, and international events. Notching more than 50 overall victories since 1990, he has competed in all triathlon distances including three Ironman events. In 2009 he won the USAT Aquathlon National Championships for the 40-44 age group, and in 2011 he earned the #1 national ranking for USA Cycling time-triallists.
SGM (Ret.) Lauinger currently resides in Northern Virginia with his wife and two sons where he serves as Chief Engineer at MixCave Mastering, a mastering and audio post-production facility.